mymedicalimages® Partners with the Bone Marrow & Cancer Foundation
mymedicalimages.com® Partners with the Bone Marrow & Cancer Foundation on their Award Winning CancerBuddyTM App
The Bone Marrow & Cancer Foundation (BMCF) and MedTech startup mymedicalimages.com are working together to help patients, survivors, and caregivers learn from each other's cancer support experiences via the CancerBuddy App
BOCA RATON, Fla., May 15, 2023 /PRNewswire/ — MedTech startup mymedicalimages.com is announcing today an important partnership with the Bone Marrow & Cancer Foundation (BMCF) to support BMCF's mission to provide comprehensive support to cancer and transplant patients. An important part of BMCF's outreach efforts is their award-winning CancerBuddy app, which is the first app-based social support network for people fighting cancer, their families, and survivors. As part of the partnership, mymedicalimages.com will become a marquee-promoted service on CancerBuddy.
"One of the realities of having cancer is managing the mountain of medical imaging studies that may be needed by various specialists throughout one's battle with cancer, and mymedicalimages.com is designed to make that often tedious process simple," said Dan Hodgeman, founder and CEO of mymedicalimages.com "We know cancer patients are in the fight of their lives, and as part of our partnership, we will provide CancerBuddy users a mymedicalimages.com account free for one year.
"We are excited to partner with mymedicalimages.com as we continue to create a supportive community for patients, their families, and survivors on CancerBuddy," said BMCF's and CancerBuddy CEO and Founder, Christina Merrill. "Non-profits like ours need to partner effectively with those in the business community who are aligned with our mission to provide resources for the cancer community that has been traditionally under-served.
As part of its outreach efforts, mymedicalimages.com is committed to listening to patients and their advocates as the company advances its platform. Often, patients discover they need mymedicalimages.com after a significant life event like Caroline Brasfield-Carter did when her then 9-year-old son was diagnosed with cancer:
"We are excited to share mymedicalimages with other families whose children are being treated for cancer because we know this technology is a game-changer in how each child can be treated. Our son was diagnosed with cancer in his femur at age 9, and in the first three months of his diagnosis, we had over 20 different imaging CDs we were storing and keeping track of. mymedicalimages is an amazing place to store these high-tech DICOM images in their exact form so that they are at our fingertips for reviewing or sharing with other medical professionals."
Because of experiences like Caroline's, mymedicalimages.com has made managing medical images easy. Medical imaging is still largely shared on CD-ROM, and the mymedicalimages.com platform allows patients to upload studies from any computer with a CD drive. Because CD-ROM drives are obsolete, patients without access to a computer with a CD drive can also visit one of more than 7,400 select CVS Pharmacy® locations to easily upload and share their medical images from photo kiosks for free.
"We recognize the frustration that can come with collecting and sharing medical images, which can lead to delays or even prevent necessary care, said Hodgeman. "Our platform empowers patients by giving them more control over their medical images, allowing them to connect with specialists worldwide and share their medical images at a time of need. We are excited to support BMCF and will continue to partner with non-profit patient advocacy organizations providing support to the people who need our platform."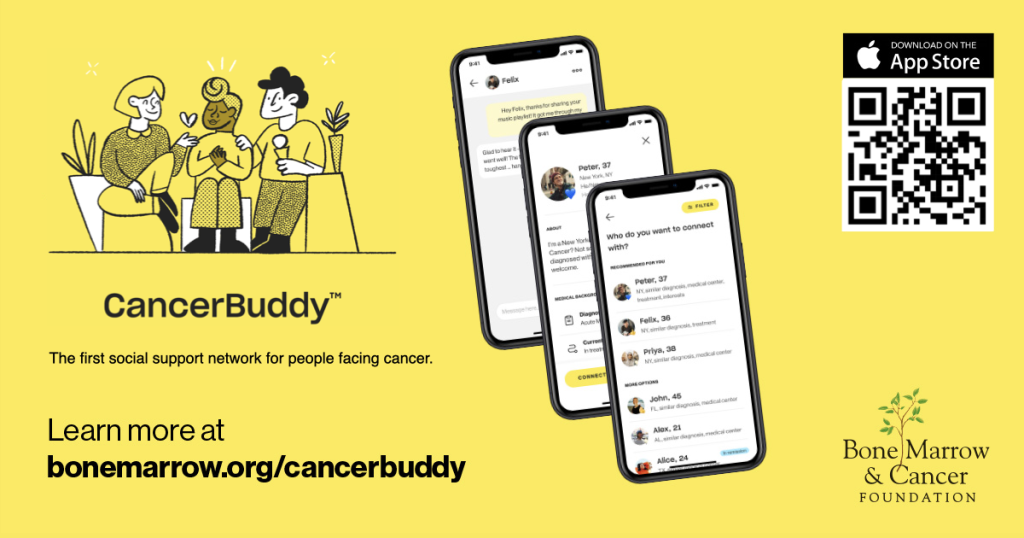 About The Bone Marrow & Cancer Foundation
The Bone Marrow & Cancer Foundation, founded in 1992, is dedicated to improving the quality of life for cancer and transplant patients and their families by providing vital financial assistance, comprehensive resources, educational information, physician referrals, and emotional support programs.
Guided by a medical advisory board of nationally-recognized cancer specialists and working with hospitals across the United States, the Bone Marrow & Cancer Foundation is the only organization of its kind that does not limit assistance to a specific cancer diagnosis, type of treatment, or age range. For the past 31 years, the BMCF has connected patients and their families with the services they need—from diagnosis through survivorship—to make effective decisions about treatment and its aftermath. All of the BMCF's programs and services are offered to patients and their families free of charge.
The CancerBuddy App is available for a free download from the iOS app store. CancerBuddy is a first of its kind to help people affected by cancer across the US find buddies to share similar experiences, resources, educational information, emotional support, and a supportive community. It's a great way for people to connect by diagnosis, treatment, side effects, age, interests, hospital and geographical location. This app helps make the experience of dealing with cancer a little less lonely for patients, caregivers, and survivors.
About mymedicalimages.com
mymedicalimages.com is a subscription-based, Software-as-a-Service (SaaS) company that provides a simple means by which patients can manage and view their family's medical images and easily share them with physicians for second opinions and treatment options at times of need. Medical images are the window into patients' health and a big part of the healthcare journey. Our proprietary, browser-based, HIPAA-compliant software reduces delays in care associated with how medical images are viewed, shared, and managed by patients and doctors. While we can access patient images directly from healthcare facilities and portals, most medical images uploaded to our platform come from CDs. We have addressed the problems associated with the lack of CD drives and CDs not working by giving patients access to thousands of kiosks and providing 24/7 live telephone support for patients and physicians. Follow @mymedicalimages on social media.
Media Contact
Jonathan Franks
jonathan@lucidpublicrelations.com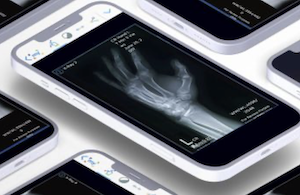 mymedicalimages.com has partnered with OrthoNOW, a Florida-based network of immediate orthopedic care centers, to provide a faste…
read more